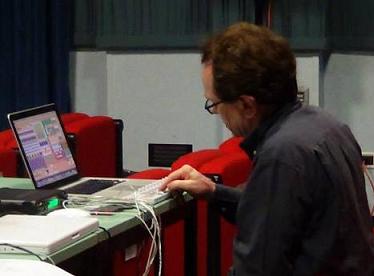 Gerard Pape is a member of DLSI and CLSI as a composer-performer. Over many years he has performed in many festivals and concerts all over Europe, Japan, Mexico, Canada and the USA...
His first performing experiences started with theater. He was an actor and stage director in different plays of his own as well as of other writers. The idea of strong, direct expression with voice and body which began for him in the theatrical field, then extended to his interpretation of sound projection, as well as playing live electronics, speaking/singing or performing with different acoustical instruments and sounding objects.
His sound projection repertoire includes such composers as Iannis Xenakis, Karlheinz Stockhausen, Éliane Radigue, Luigi Nono as well as his own music.
Repertoire List, contemporary music
| I | Sound projection | Links |
| --- | --- | --- |
| 1 | Luigi Nono "A Floresta" | CD Mode Records |
| 2 | Karlheinz STOCKHAUSEN "Cosmic Pulses (Klang – 13th Hour)" | |
| 3 | Karlheinz STOCKHAUSEN Havona (Klang – 14th Hour) | |
| 4 | Iannis XENAKIS "La Légende d'Eer". Electroacoustic Work for 7-channel tape | |
| 5 | Olga KRASHENKO "Ge" for flute-voice solo and electronics | Soundcloud |
| II | Electronics | Links |
| 1 | Lissa MERIDAN "Songs from elsewhere", №3 for soprano and electronics | |
| 2 | Lissa MERIDAN "Songs from elsewhere" for ensemble with elestronics. №1, №2, №4, №5 | |
| 3 | Karlheinz STOCKHAUSEN "Kurzwellen" for six players with shortwave receivers and live electronics | |
| 4 | Karlheinz STOCKHAUSEN "Prozession" for tamtam, Viola, electronium, piano, 2 microphones, 2 filters and potentiometers; 6 performers | |
| III | Voice, instruments and objects | Links |
| 1 | Rodolphe BOUROTTE "Radiations de Temps" for soprano, 3 male voices, piano and electronics | Youtube |
| 2 | Martin PHELPS "Canvas in Progress" | |
| 3 | Karlheinz STOCKHAUSEN "Intuitive Music" | |
| 4 | Gerard PAPE "Gestes de Son et de Silence" for actor and 2 vocalizing cellists | |
| 5 | Olga KRASHENKO "Opera Macondo. Introduction and 1th scene", for soprano solo with flute, mezzo-soprano with piano, baritone with trombone, 2 instrumental ensembles, vocal ensemble, string orchestra and electronics. | Youtube1, Youtube2 |
| 6 | Olga KRASHENKO "Opera Macondo. 4th scene", for soprano solo with flute, mezzo-soprano with piano, 2 instrumental ensembles, vocal ensemble, string orchestra and electronics. | Youtube1, Youtube2 |
| 7 | Olga KRASHENKO "Opera Macondo. 5th scene", for soprano solo with flute, mezzo-soprano with sampler, baritone with trombone, baritone with violin, instrumental ensemble, vocal ensemble, flute orchestra, string orchestra and electronics. | Youtube |
| 8 | Olga KRASHENKO "Don't wake the beast in me" for voice, tenor recorder and accordion | Soundcloud |