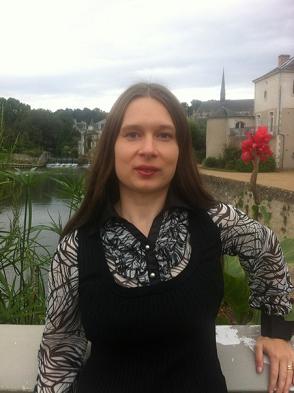 Olga Krashenko was born in 1983 in Kaliningrad wher she began her music studies at the age of seven. After preliminary music studies at the local and regional levels, she studied primarily composition at the National Conservatoire of Saint-Petersburg "Rimski-Korsakov" from whom she graduated in 2008, having followed the classes of composition of Professors B.Tischenko and V.Citovich. Olga Krashenko then attended workshops with the Ensemble Recherche at the Ensemble Academy Freiburg (2007), with André Richard studying how to interpret the electronic parts of works by Luigi Nono (2007) and with Tristan Murail. A scholarship was awarded to her in order to attend the workshops of the Biennale of Venice 2008, including the Laboratory "Sensitive Space" with Beat Furrer.
She was also awarded further scholarships to attend the Stockhausen Summer Courses in 2008 and in 2009. She completed her advanced studies in composition ("niveau supérieur") at the Ecole Normale de Musique in Paris, class of Professor E. Lejet including a a compositional workshop with members of the Ensemble Alternance of Paris, for whom she wrote a piece.
In 2009 Olga Krashenko was awarded a fully expense paid residency to compose a new work for flute and electronics at the Studio Varèse in Paris. In April 2010, she presented a new ensemble piece in the master-class of the Paris based Ensemble Alternance. She was winner of the competition "Call for Scores" of the organization Sound Plasticity (Moscow, 2009) and finalist of the International Composer Competition IIC (Melbourne 2010).
Her compositions were performed in many festivals in Saint-Petersburg, in Moscow and other cities of Russia by the Academic Orchestra of Saint-Petersburg Conservatory, the Kaliningrad Symphonic Orchestra, Demetrius Spaneas, Alexey Shmurak, Michail Krutik, Alexandra Korobkina, Elya Kulukaeva, Guzel Sajfutdinova, Elena Malyuk and others. At concerts in Europe and in the USA, her pieces were given their world premieres by such world reknown soloists such as Dimitri Vassilakis (Ensemble Intercontemporain), Cecile Daroux (Ensemble Itinéraire), Pierre-Stephane Meugé, Jacqueline Mefano (Ensemble 2e2m), Daniel Kientzy, John Kenny, Maurizio Barbetti, Ana Telles, Thomas Keck, Shanna Gutierrez, and Dario Garau. Her music was also played by such ensembles as Quartet New Generation, Konvergence, Seldom Sene, Dal Niente, Con Moto, CLSI and the Orchestre de Flûtes Français.
Musicians about Olga Krashenko and her music
Exploring voices with russian composer, Macondo : Cette pluie qui a brisé l'ordre normal des choses
Music of Olga Krashenko 2007 - 2015
2 0 1 5 Opera "MACONDO"
Links
"Opera Macondo. 5th scene", for soprano solo with flute, mezzo-soprano with sampler, baritone with trombone, baritone with violin, instrumental ensemble, vocal ensemble, flute orchestra, string orchestra and electronics.
~16'
Youtube
"Opera Macondo. Introduction and 1th scene", for soprano solo with flute, mezzo-soprano with piano, baritone with trombone, 2 instrumental ensembles, vocal ensemble, string orchestra and electronics.
~16'
Youtube1, Youtube2
2 0 1 4 Ballet-Mystery "IMMORTAL"
Links
Ballet-Mystery "Immortal", 1st and 2nd parts for solo voices, vocal ensemble, flute ensemble, 4 didgeridoo, piano, percussion and strings. The idea, scenario and choreography — Aigul Gilmetdinova
~35'
Booklet
2 0 1 3 Opera "MACONDO"
Links

The opera "Macondo" was inspired by G. Marquez story "Monologue of Isabel watching It Rain in Macondo" and was written for soloists, string orchestra, choir, vocal ensemble, two instrumental ensembles, concrete sounds and electronics. Opera consist of five scenes, and the fourth scene which will be performed at this concert is called "Rain which broke our usual order". Locale of the action is in Macondo, a town without exact place and historical time indication. The scene is happening inside living room which has a water on the floor and chaos of furniture piled on top of the table next to the wall. Fear of catastrophy, lost senses, gousts and lot's of unknown, almost unexisting people is a world of this scene. Traces of opera singing are mixed with theatrical, folkloric, sonoric, electronic and other transformations of prononciation. Words, and also vocal and instrumental sounds cut, drop, shake, swim and breath. And if we want to find any little chance to change the situation with the rain, we must pray...

~22'
Youtube1, Youtube2
2 0 1 2 Chamber music
Links

The composition was written for the ensemble of five recorder players « Seldom Sene ». The praying mentioned in the title of the piece doesn't refer to any organized religion, doesn't use any standard text, but still has the form of a ritual. The idea of praying is that it can be done directly through music. Performers are not limited to play just their instruments. They also sing and pronounce different phonemes as if these were taken from ancient forgotten languages. The players make breath sounds and shake their instruments, evoking noises in nature. They express something very personal in their unspoken thoughts and quiet whisperings of prayers which the public and composer are not allowed to know... When we perceive music as a kind of « sounding air », we can't tell exactly where it is and where it disappears to afterwards. It is something in the air. Also, we don't know precisely where our soul is... in the air... We can't see any of this, but with music we can be deeply involved in another level of feeling and perception...

~12'
Soundcloud
"Praying for rain" for trombone solist-actor and tape
~7'
Soundcloud
2 0 1 1 Chamber music
Links

Originally the piece was written for tenor recorder and accordion with voice. The title of the piece comes from a common expression in Russian. It's a warning, trying to stop the other before it becomes too late... If you don't stop, I'll become angry like a bear who is woken up unexpectedly in the middle of the winter! In this work, contemporary extended instrumental and vocal techniques are used together with music theater, but the listener could discover the border between that which is initially perceived as contemporary music cliché or abstract instrumental/vocal gesture and music that seeks to express real strong feelings that go beyond everything...

~5'
Soundcloud
2 0 1 0 Chamber music
Links

The composition represents the mixture of three different ways of singing - a kind of folkloric singing, including special speaking which is close to the reciting of fairy tales, "electronic" singing which imitates all kinds of electronic sounds and effects, and "baby singing" where the performer sings in a manner that is meant to evoke Lacan's "lalangue" and which also imitates crying and other sounds of babies. The musical development is limited by a very narrow pitch range which creates a feeling of line. The text of the song comes from the novel of Olga Krashenko "Person without name".

~12'
Soundcloud
"Memento mori" for four vocalizing recorder players (2 sopr., ten., alto)
~5'
Soundcloud

The translation of the title (approximately) is "Field not field". It is a reference to Russian folklore and expresses an admiration for the infinity of space. It's also possible that what is being evoked musically and poetically is not a spatial field at all, but our soul of love...The piece was written especially for the Paris based ensemble "Alternance".

~3'
Soundcloud

The composition is written for flute and bowed guitar. When a guitarist plays with a bow, it gives him a completely different experience as to performance practice with his instrument. The musical development of the piece is based on "echo" and "mirror" reflections. When musical material stretches or compresses in time during the piece, it simulates different acoustic spaces with different degrees of reverberant reflectivity. This is meant to give the impression of constant change in the qualities of the acoustic space. The premiere of the piece was in Paris in 2010.

~4'
Soundcloud
2 0 0 9 Chamber and orchestra music
Links

The piece for violin solo is constructed on the sliding intonations-emotions of "question" and "answer" which then become mixed into complete noise... Is it possible to open one more door in ourselves ?..What will one find behind light illusions-discoveries ?... The world premiere was in Saint-Petersburg in 2010. The world premiere of the version with viola took place in Paris in November 2009 with Maurizio Barbetti (viola)

~2,5'
Soundcloud

The piece is for alto saxophone and piano. Alto saxophone symbolizes the sad world of the insignificant fly ("simulation of fly's buzz sound", "noise sound") and the piano symbolizes the cold world around that could not care less about the poor fly ("cold sound"). The world premiere was in Bucharest, Roumania in June 2009 with the great saxophonist Daniel Kientzy playing the part of the poor fly (saxophone).

~5'
Soundcloud

This piece for flute and electronics was written during Olga's residency at the Varese Studio in Paris. The original idea was to create a combination of flute (Heaven), voice (Earth) and electronics (Spirit) as a oneness, something indivisible. During the process of musical development, this unity becomes unstable and falls to pieces, like a flow of history. The phrase of Maeterlinck "life is a garden" also is reflected in this piece. The Russian transcription of this title - "Ge" refers to an expression in the Russian language that is "in between" the main expression, something that adds a subtle emotion. ln taking away from the title the main expression, GE is what is left. "Ge" was given its world premiere in November 2009 by the French flutist, Cecile Daroux with live electronics and sound projection by Jean-Baptiste Favory in a concert in Paris which included 3 other works by Olga Krashenko.

~4'
Soundcloud
"Praying for a pure world" for flute orchestra
~20'
2 0 0 8 Chamber and orchestra music
Links
"A" for ensemble (fl., cl., vn., pno, perc., voice)
~7'
Concert for piano and orchestra
~12'
"Dust of Time" for ensemble (2 vn., fl., pno)
~5'
Soundcloud
"Through..." for piano solo (hommage Scelsi)
~5'
Soundcloud
2 0 0 7 Chamber music
Links
"Island of Fire" music for ballet number of Aigul Gilmetdinova
~6'
Youtube

The concept of the piece is electro-acoustic vocal music. The primary source material is the human breath which is a very rich sonic material which can be shaped with regard to continually transforming envelopes of intensity and timbre. The combination of 5 continuously transformed human voices creates a rich cloud of evolving noise. The graphical score indicates quite exactly which transformations of breath are to be created by small changes in lip position, tongue position, and phonemes by the 5 vocalists. There are two possible versions of the piece: one for 5 live vocalists and live electronic spatialisation via a computer program, and the other for tape. In both cases, the spatial element of the composition is very important. The present acousmatic tape version of the piece allows for a live spatialisation of pre-recorded vocal material diffused through a multi-loud speaker system by a sound projectionist.

~7'
Soundcloud

The piece for piano is dedicated to G. Scelsi. "From..." is the first part of an idea about paths-from-through-over... The world premiere was in Kiev, Ukraine. The Russian premiere was in Saint-Petersburg in 2008.

~5'
Soundcloud

The title of the piece was taken from the book of B. Kaufman used here as a metaphor. The form consists of three parts. At the beginning, sounds go up trying to reach the top of an imaginary mountain. At the "top point", there are glissandi up and down, gladness and confusion at the same time... and at the end, voices intone laments, noise sounds, and the direction of the sound goes down. Material with vibrati symbolize God with the constant notes "C" and "Eb". The rest of the musical material can be considered as symbolizing the vanity of life... The premiere took place in Saint-Petersburg in 2007.

~5'
Soundcloud