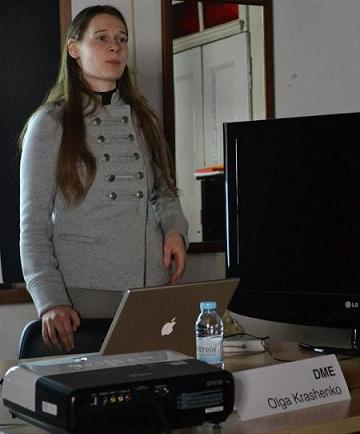 Musical research
Olga Krashenko started her first research on "venio" being 8 years old when she invented this word. Olga studied as musicologist at Kaliningrad Music College and continued at Saint-Petersburg State University after she finished Saint-Petersburg conservatory as a composer. She gave seminars and lectures in Saint-Petersburg and in Moscow about Luigi Nono, Karlheinz Stockhausen, Gerard Grisey and other composers.
In Portugal at the festival "Dias de Música Electroacústica", she presented a special theme "Music and Synesthesia". She was a finalist of the "INTERNATIONAL MUSICOLOGICAL CONFERENCE - Sociocultural crossings and borders: musical microhistories" at Lithuanian Academy of Music and Theatre (Vilnius). Olga Krashenko is author of the books "River of Thoughts. To think is already to sound" (2013) and "Unexisting Music" (2015) which she presented in Italy and in Lithuania. Some of her works have been translated into English and into French.
For two years she participated in Paris in the Lacanian cartel "Psychoanalysis and Music" of the Ecole de la Cause Freudienne. On this theme, she presented her paper "What and how we hear" in Saint-Petersburg at the Freudian Museum as well as wrote the articles "La Parole et La Musique" and "La Parole et le Son Musical". Olga Krashenko's works have been published in Lacanalia, Hebdo-blog, Remusik, Apokrif and other journals.
Writing.com, Proza.ru, Remusik, Syg.ma, Lacan.ru
List of research works
I
Works translated into english and into french
Links
1
book "River of Thoughts. To think is already to sound"
Monalbumphoto,
Writing.com Part I,
Writing.com Part II,
Writing.com Part III
2
article "The Ideology of Today's Musical Society or The Myth about The Composer's Desire"
Writing.com
3
article "About Venio"
Digio.me
4
essay "Electro-acoustis music as lost sound"
Writing.com
5
essay "Museum Music"
Remusik
6
article "La Parole et La Musique" (in french)
Hebdo-blog
7
article "La Parole et Le Son Musical" (in french)
Digio.me
8
article "L'espace dans la musique de Luigi Nono" (in french)
Digio.me
II
Books
Links
1
"Несуществующая музыка"
Albelli,
Proza.ru
2
"Река мыслей. Мыслить - значит, уже звучать"
Monalbumphoto,
Proza.ru
III
Articles
Links
1
Идеология музыкального сообщества или миф о композиторском желании
Lacan.ru
2
Что и как мы слышим
Lacan.ru
3
"Толкование сновидений" в сновидении
Lacan.ru
4
Партитура в контексте человеческой памяти
Syg.ma
5
Вэнио
Apokrif
6
Пространство в музыке Луиджи Ноно
Digio.me
7
Макондо. Опыт сочинения современной оперы
Syg.ma
IV
Essays
Links
1
Музыка Штокхаузена
Syg.ma
2
Весна священная. Две капли мыслей
Syg.ma
3
Музейная музыка
Remusik
4
Электронная музыка как то, что мы потеряли
Syg.ma