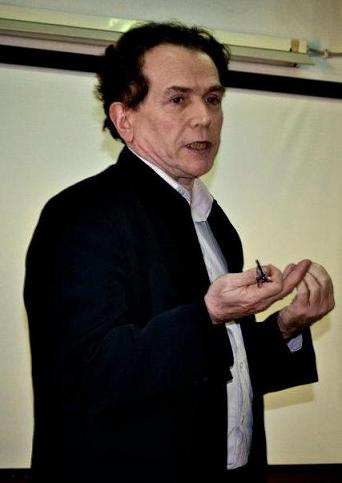 A Trans-disciplinary approach
"The reading of Pape's texts reveals to us the intransigent technical-compositional research, on which his music is based, and the sources of his inspiration, that is his versatile interests ranging from poetry to mathematics, from theater to natural sciences and philosophy. His approach to composition is eminently trans-disciplinary."
"In his writings Gerard Pape often underlines that other disciplines like natural sciences, architecture, psychoanalysis, philosophy, are necessary in order to achieve musical innovations. Principles and achievements of other fields can be 'translated' in music. He is particularly interested in this trans-disciplinary translation. Asserting that, somehow he also acknowledges that in this historical moment music is not anymore able to renew itself by itself..."
MusiPoeSci, Introduction and Interview by Leopoldo Siano
"In my most recent works, pitch (better called 'frequency', which is the more general term) has a renewed importance for me, but now, as only one dimension of composite 'sound-based' harmony. Pitch is perceived when sound spectra fundamental and partial frequencies are relatively stable or periodic, but, even in this case, pitch is not necessarily more important than the other sonic dimensions of timbre, intensity, duration, pulsation, vibrato, space, if the composition is 'sound based' and not 'note based'."
"The 'harmony' that I have found is not a consonant and synchronous 'One' where all dimensions of timbre and time fit together nicely. My harmony is a 'heterophonic-spectral multiplicity' rather than a 'polyphonic-harmonic unity'. In my music, we are closer to the 'harmony' of metaphysical violence that results from cosmic struggles between clashing forces of life and death, creation and destruction..."
MusiPoeSci, Interview, answers of Gerard Pape
Publications
Invention on the Four Bs - March 2016
Poly-Sensual Music - March 2016
"Composition and the structure of sound" - MusiPoeSci, Michel de Maule 2015 (publication in english and in french)
"Musical form and transformation: a morphogenetic approach" - MusiPoeSci, Michel de Maule 2015 (publication in english and in french)
"Spatial-Temporal form" - MusiPoeSci, Michel de Maule 2015 (publication in english and in french)
"Form, Space, Time" - MusiPoeSci, Michel de Maule 2015 (publication in english and in french)
"Xenakis and Time" - MusiPoeSci, Michel de Maule 2015 (publication in english and in french)
"Intuitive Time and the Temporalization of Space" - MusiPoeSci, Michel de Maule 2015 (publication in english and in french)
"Timbre and Time" - MusiPoeSci, Michel de Maule 2015 (publication in english and in french)
"Harmonies if Time and Timbre" - MusiPoeSci, Michel de Maule 2015 (publication in english and in french)
"Harmonies of Form and Time" - MusiPoeSci, Michel de Maule 2015 (publication in english and in french)
"The Space-Time: Percuspace" - MusiPoeSci, Michel de Maule 2015 (publication in english and in french)
"Percuspace project" - MusiPoeSci, Michel de Maule 2015 (publication in english and in french)
"Halo Harmony Live Electronics" - MusiPoeSci, Michel de Maule 2015 (publication in english and in french)
"Why Poets?" - MusiPoeSci, Michel de Maule 2015 (publication in english and in french)
"Sunset Tme: Why Poets"" - MusiPoeSci, Michel de Maule 2015 (publication in english and in french)
"Sunset Time: The Child and the Fourth World" - MusiPoeSci, Michel de Maule 2015 (publication in english and in french)
"A 'Polyagogic' Approach to the Use of the Computer in Music Pedagogy" - ArtFutures - Current issues in Higher Arts Education. Elia, Amsterdam, December 2010 (publication in english)
"Interpreting Xenakis' Electroacoustic Music: La Legende d'Eer" - Performing Xenakis. Translated, compiled and edited by Sharon Kanach. The Iannis Xenakis Series No.2. Pendragon Press Hillsdale, New York 2010. (publication in english)
"Luigi Nono And His Fellow Travellers" - Contemporary Music Review, Volume 18 part 1 "Luigi Nono. The suspended sound" (publication in english)
"Varese the visionary" - Contemporary Music Review, volume 23 part 2 "Edgard Varese... New worlds" (publication in english)
"Xenakis and Time" - Iannis Xenakis: Das elektroakustische Werk (publication in english)
"Some Musical Possibilities of the New UPIC System" - International Computer Music Conference and Festival at Delphi, 1992 (publication in english)
"Iannis Xenakis and the "Real" of Musical Composition" - Computer Music Journal Vol. 26 #1 (publication in english)
"Stochos: Software for Real-Time Synthesis of Stochastic Music" - Computer Music Journal, Vol.27 #3 (publication in english)